Campus shooting suspect named as Chris Harper Mercer, 26
Comments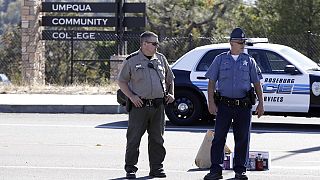 Authorities in the US have named the suspect in the latest school shooting. Twenty-six year old Chris Harper Mercer is alleged to have opened fire at a community college in the state of Oregon killing nine people and wounding seven others.
Authorities were trying to work out the gunman's motives. One witness said the he lined people up and asked if they were Christian, according to a report in NR Today. If they said yes, they were shot in the head. If they said no, or didn't answer, they were shot in the legs, according to the New York Post.
US President Barack Obama, speaking just hours after the rampage, said the mass killing should move Americans to demand greater gun control from elected officials.
"Somehow this has become routine," a visibly angry Obama said. "The reporting is routine. My response, here at this podium, ends up being routine. The conversation in the aftermath of it: we have become numb to this… It cannot be this easy for somebody who wants to inflict harm on other people to get his or her hands on a gun."
The killer used four guns, including a type of assault rifle, in the classroom attack.
A profile on dating website Spiritualpassions.com lists Harper-Mercer as using the site under the username IRONCROSS45.
The user listed his interests as the internet, killing zombies, movies, music and reading, adding that he didn't want to have children, and the description" "shy at first, but warm up quickly, better in small groups."
He also said he was "Looking for someone who shares my beliefs, and is similar to me." He also defined himself as being a "conservative republican."
A separate profile linked to the same email address on a file sharing site shows the last film uploaded by the user was a documentary about the Sandy Hook school massacre.
Harper-Mercer also seems to have had a MySpace account on which he uploaded pictures of Irish Republican Army members in combat gear.
Video of #UCCschooting vigil #LiveOnK2pic.twitter.com/HSrmzkVvkh

— Hillary Lake,

KATU

(@hillarylake) October 2, 2015