Amazon to stop selling Apple and Google streaming devices
Comments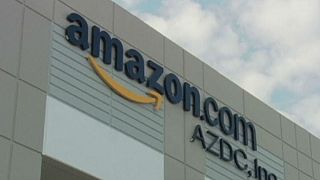 Amazon is to stop selling streaming devices from Apple and Google that aren't easily compatible with its own video service.
It has told its sales outlets that both the Apple TV and Google's Chromecast don't "interact well" with Prime Video.
The move, which comes not long before the holiday shopping season, is being seen as an example of the company using its clout in the marketplace – almost certainly at some financial cost to itself.
It's thought Amazon's strategy will likely hurt Google more than Apple, which has its own stores and direct access to customers.
The web retailer has confidence in its own products such as its Fire TV stick that can connect the internet to TV.
The decision has been both praised as audacious, and condemned as a poor, negative move that would backfire.
"Amazon probably wants to teach Apple and Google a lesson about not making their devices more compatible. This is one way to do it and it's not likely anticompetitive," said Allen Grunes, a lawyer at Konkurrenz Group in Washington.
But another view was that Amazon's decision to limit selection "sends the wrong signal to consumers," and the company's explanation that Prime Video doesn't work well with its rivals' products is "especially weak," said Michael Pachter, an analyst at Wedbush Securities in Los Angeles.
Neither Google nor Apple commented in the immediate aftermath of the decision.