Air France plans 'significant' job cuts after pilot talks break down
Comments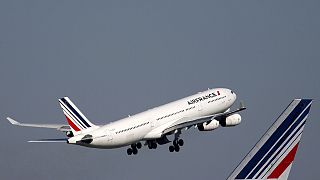 Air France says on Monday it will give staff details of significant job cuts, following the breakdown of negotiations with pilots over a restructuring plan.
The warning comes from the head of the parent company Air France-KLM.
The airline had already warned that operations would have to be reduced in order to safeguard its future.
"For the moment the negotiations are finished. Now they are finished. But if in the coming weeks the unions come to us with a real plan, and a real desire to negotiate, the door is not closed," Alexandre De Juniac, chief executive of Air France-KLM, told Europe 1 radio.
Air France has been trying to increase pilots' flying hours without increasing pay; plans which prompted a series of strikes last year.
Figures show pilots are paid significantly more than other airline personnel.
Unions say management plans to cut almost 3,000 jobs – mostly among ground staff.
Meanwhile Air France has said it may have to reduce long-haul operations by 10 percent by 2017.