Saving the world from hate, nuclear apocalypse, climate change and war
Comments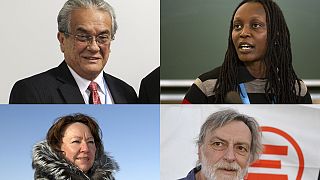 An Italian doctor an arctic environmental campaigner, a Ugandan human rights activists and the population of a chain of Pacific Islands have been honoured with awards designed to recognize achievements missing from the Nobel prize list.
The Right Livelihood Award winners
Kasha Jacqueline Nabagesera was recognised for standing up for gay, lesbian and transgender rights in her native Africa. Openly gay since childhood in a country where homosexuality is illegal, Nabagesera drew on her experiences of bullying and discrimination to set up a group to campaign for change. Despite suffering death threats, even in mainstream media, she also trained activists in other countries to combat abuse, stigma and bigotry.
Gino Strada used his training and experience as a surgeon in top US and British hospitals to work in conflict areas for the Red Cross in the 1980s and 1990s. He subsequently set up his own medical network designed to be nimble enough to respond to crises wherever needed. Emergency, as it is called, now operates in some of the world's most dangerous conflict zones and has treated more than 6 million patients.
Sheila Watt-Clouter is an inuit campaigner who has worked to protect indigenous people from the impact of climate change and other environmental changes. She has represented her people around the world challenging through various means threats to their livelihood from carbon emissions to pesticides.
Honourary award
Tony de Brum, president of the Marshall Islands and the population of his country were recognised for holding to account the world's nuclear powers. Having been the site of scores of atomic tests in the 1940s and 50s, the Marshall Islands watched in dismay as the world powers failed to respect an agreement to eliminate their nuclear warhead stockpiles. However they didn't just watch. Under the terms of the 1968 nuclear non-proliferation treaty the US, Russia (USSR), France, China and the UK had all agreed to disarm, so the Marshall Islanders, led by de Brum, took them to the International Court of Justice in the Hague. The case is ongoing.
Background
The Right Livelihood awards were established in 1980 by Swedish German philanthropist Jakob von Uexkull to honour acheivements in the fields of environment and international development. The winners share a €320,000 prize.