Samsung insists TV device is 'not a test cheat'
Comments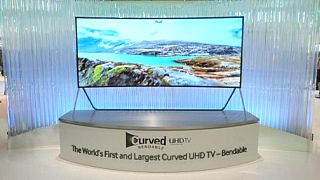 Samsung has strongly denied a report in a British newspaper citing research suggesting that some of its TVs in Europe appear to use less energy in tests than in real-world conditions.
The report in the Guardian referred to unpublished lab tests by an EU-funded research group called Complian TV.
According to the paper, the studies found that a Samsung feature reduced TV sets' brightness and power consumption during international test conditions.
But it said in normal circumstances no reductions were registered, making energy consumption, fuel bills and carbon emissions higher.
There was no suggestion that the world's biggest TV manufacturer had behaved illegally. But the researchers' project manager was quoted as saying that Samsung was respecting "the letter of the law but not the spirit of the law".
Samsung issued a statement strongly refuting the allegations, insisting its "motion lighting" feature is not a test cheat and does help save energy in real life. It's a default setting, the multinational claims, that works in the lab and at home when viewers opt to watch in Standard mode.
The company told the Guardian that the feature reduced screen brightness in response to numerous types of content, including fast-action movies and sports, and slower moving footage such as weather reports – but not just during test conditions.
However the paper said authorities in Sweden and the UK had already expressed concerns that televisions had been installed with equipment to detect test conditions. A spokesman for the European Environmental Bureau, an internationally-funded watchdog, said there was "more than a whiff of diesel fumes coming out of this," a reference to the Volkswagen diesel emissions scandal.
The European Commission has pledged to investigate allegations of test-cheating and to outlaw so-called "defeat devices" in consumer products, following concerns raised by several EU states.
#Samsung under scrutiny as EU moves to ban defeat devices in TVs. By me: http://t.co/2sv4iSr65gGreen_Europe</a> <a href="https://twitter.com/IngridHolmes7">IngridHolmes7NRDC</a></p>&mdash; Arthur Neslen (ArthurNeslen) 1 Octobre 2015