Tesla's electric Model X SUV almost ready for the road
Comments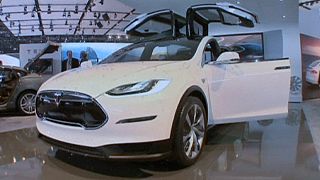 It's been a long time coming – but after many delays Tesla's Model X electric car is getting ready to hit the road.
It's a significant moment for the luxury SUV market – and Tesla's glitzy but rare launch events have been compared to Apple's.
The new car was first unveiled three and a half years ago. Now customers who pre-ordered them are seeing their new cars for the first time.
Compared to the Model S, Tesla hopes the Model X will attract new kinds of customers. It's taller and wider, with space for up to seven passengers and unusual doors that open vertically.
The company intends to expand production – even though making two cars at the same time at its California factory presents new challenges.
Shipments of the new car have been delayed several times. The big test for Tesla will be whether it can meet its production objectives.
Prices for the new electric car are expected to start at around $80,000 (71,000 euros) – $5,000 more than the Model S – with top-of-the-range models likely to cost up to $144,000 (128,000 euros).
Tesla's CEO Elon Musk commented recently on the Volkswagen emissions scandal, reportedly saying it was time to give up on fossil fuels and embrace new technology.
Model X launch webcast live today 8pm at http://t.co/R1Z6eMTUbo. Time to show the real thing. pic.twitter.com/oXMrucs8wJ

— Elon Musk (@elonmusk) September 29, 2015