Putin says 'differences can be resolved' after meeting with Obama
Comments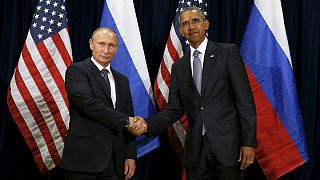 The first face-to-face meeting in almost a year has taken place between Russian President Vladimir Putin and US President Barack Obama. It happened on the side lines of the UN's General Assembly and had been billed by some as the main event.
After the 90 minute talks President Putin told Russian journalists that the discussions had been very constructive and efficient. "We found we had a lot of points in common," he said, "but we also have differences, it is nonsense to ignore that but it's possible to work on the common ground together."
Main points of talks
Agreement to explore political solution in Syria but disagreed on future of President Assad
No talk of Russian troops on the ground in Syria.
Russia might be willing to join air strikes against ISIL if backed by United Nations
Earlier before the UN General Assembly Putin had seized the initiative over Islamist extremism:
"We propose to be guided not by ambitions, but by our
common values and common interests based on international law, we propose to unify our efforts for finding solutions of new problems that we face today and to create a really broad international coalition against terrorism"
He then urged international support for Syria's President, something which the US takes issue with.
Our correspondent Stefan Grobe, in New York said:
"Washington is ready to cooperate with Moscow on Syria, despite the very harsh criticism Obama had reserved for Putin. Whether his awkward one-on-one with the Russian leader will yield any progress in the Middle East is too early to tell. But then, Obama does not have that many options."