Migrants face growing numbers of challenges
Comments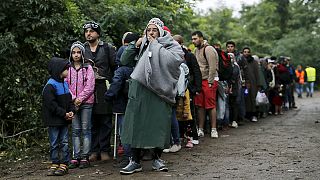 "Anti-migration sentiment in Europe is unnecessarily endangering the lives of migrants," William Lacy Swing, Director General of the International Organization for Migration (IOM), has warned the United Nations General Assembly.
With winter fast approaching, many undertaking the journey face further complications.
In recent days, temperatures have dropped significantly and many migrants have caught colds or the flu following days on the road in the rain and mud.
Croatia
Officials say more than 70,000 migrants have arrived in Croatia over the past few days.
A transit camp has been set up near the eastern border for the bus loads of people arriving from Serbia.
Austria
Some 10,500 people are waiting in Austria to enter Germany. However, with the country preparing to accept as many as 80,000 arrivals in 2015 alone, the German president has warned there are limits to the numbers Germany is able to receive.
But the amount of people making the journey doesn't seem to be slowing down. According to the IOM, a record half a million migrants have crossed the Mediterranean between January and September 2015.
Between Sunday and Monday (September 27-28), 17 people lost their lives making the crossing.