All change in Manchester, joy for Villareal, Messi messed up and more in a packed edition of 'The Corner'
Comments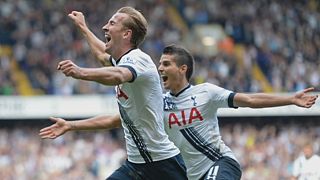 In this edition of 'The Corner' there's a change at the top of the Premier League standings, but the leadership is still in the same city. The two Manchester teams destiny is indeed tied. If, on the one hand, City look like they're in a crisis, United have made a storming comeback. It has been 82 weeks since the Red Devils looked down on everybody else from the top.
A tale of two halves
Spurs simply blew away Manchester City in the second half last Saturday. Manuel Pelligrini looked on in disbelief as his expensively-assembled side lacked hunger, ambition, workrate, indeed anything resembling competitivity as Spurs ran riot. Harry Kane got on the scoresheet for the first time this season, but it was just the cherry on the cake as City had packed their bags long before he hit the back of the net. The one bright spot was a majestic, if fruitless performance from new boy Kevin De Bruyne, who's taken to the Premier League like a duck to water.
The roar is back at Old Trafford
Sunderland may be dismal this year and could hardly be expected to get anything out of Old Trafford, but United purred in most departments with Luis Van Gall saying his side was balanced at last after winning three-nil. Memphis Depay got the show on the road, but of more import was yet another assured performance from the world's most expensive teenager, Anthony Martial , and Wayne Rooney getting his first goal in 999 minutes.
United are not the finished article yet and Europe will be a stiffer test, but the fans are delighted to go above their noisy neighbours.
Up and Down
There are some surprises in our Up & Down section this week, starting with a club that has reached an unprecedented lofty position in La Liga in Spain. Now, who can that be?
UP
After 92 years and 576 matches in the Spanish top flight UP Villarreal CF have broken into the cosy Madrid/Barcelona duopoly and are top of the league. Fans are pinching themselves, but are in no hurry to see their dreams shattered just yet.
Robert Lewandowski – seven goals in the last five days, including two on Saturday is hard to beat. The striker is red-hot right now, and has become the sixth player to score 100-plus goals in the Bundesliga this century.
DOWN is, well hardly believable,
Not only has Lionel Messi seen his Barcelona stutter recently but against Las Palmas the inspirational playmaker picked up a knee injury that could rule him out for up to 2 months.
The road to Euro 2016
Let's close our Euro 1964 review with a player who wrote his name into the competition's history, setting a still-unbeaten record. His name was Jesus Pereda, but everybody knew him as Chus.
Midfielder Jesús Pereda's sixth-minute strike for Spain, against the Soviet Union in Madrid, remains the quickest goal in a UEFA European Championship final. Chus also provided the assist to Marcelino for the victory goal.
https://en.wikipedia.org/wiki/Jes%C3%BAs_Mar%C3%ADa_Pereda
We might be wrong
Once again we're going to try to predict the results of four of the most interesting matches in the second round of the Champions League. You can send us your predictions, through the hashtag #TheCornerScores. Let's hope they're better than ours usually are…What are you waiting for?
Champions League – group stage
Manchester United 3-1 Wolfsburg
Juventus 1-2 Sevilla
Barcelona 2-0 Bayer Leverkusen
Bayern Munich 3-0 Dinamo Zagreb
Goalcreepers
This week we say goodbye with three goalkeepers' bloopers. In Brazil, Mexico and Norway, these three keepers butterfingers meant they'll be on the naughty seat until at least next week.
Well, that's our full time whistle.. The Corner comes back, as always, next Monday. Stay with us!