Madonna, muses and grandma - Gaultier looks back with laughter on 40 years in fashion
Comments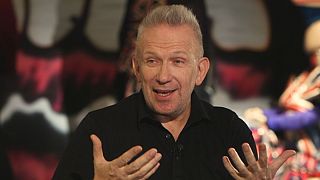 In this edition of The Global Conversation, euronews' Isabelle Kumar is joined by iconic French designer Jean Paul Gaultier, who is celebrating 40 years in fashion with a worldwide touring exhibition featuring some of his greatest, most provocative and daring creations.
You know, happiness can also be finding oneself in a state of contemplation. That means I can be very comfortable in my bed watching television and eating spaghetti!
Who is Jean Paul Gaultier?
Jean Paul Gaultier was born in 1952 in a Paris suburb
His relationship with his grandmother was pivotal in his career in fashion
He showed talent early on, enjoying sketching fashion designs
On his 18th birthday he was employed by Pierre Cardin despite having no formal training
He became known as the 'enfant terrible' of fashion for challenging a standard vision of fashion
His signature pieces include Madonna's conical bra for her 'Blonde Ambition tour' and the striped 'Marinière'
This his year he quit Prêt-à-Porter to concentrate on Haute Couture
From a council house estate to the catwalk, from an early age Gaultier dreamed of designing as a means of escaping his humble Parisian roots. Along the way he drew inspiration from his grandmother, a key figure throughout his life.
Many people will be familiar with his work via his collaboration with pop singer Madonna but Gaultier had made a name for himself as the "enfant terrible" of fashion well before he made raised eyebrows with his famous conical bra…
Gaultier was just 18 when he was given his break by the legendary designer Pierre Cardin. Still at school, he spent odd afternoons learning his trade from the French master and fashion magazines, fueled by a burning desire to succeed. Work became and remains an obsession for Gaultier, and even though he's decided to give up haute couture, he told euronews that his diary is as full as ever as his expo tours the world and he embarks on several new exciting projects.