Japan falls back into deflation in blow for stimulus effort
Comments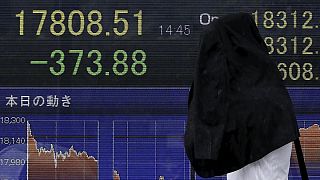 Japan has fallen back into deflation for the first time in two and a half years.
It's being seen as a setback to efforts to stimulate the economy.
It comes despite encouraging signs of inflation at home. Core prices excluding food and energy were up by 0.8 percent on a year ago.
But headline prices not including fresh food were down by 0.1 percent in August compared to a year earlier – as the domestic picture was offset by slumping global energy prices.
Lower prices are seen as bad for the wider economy, discouraging spending and investment and pulling down wages.
The figures are a blow to the prime minister, coming just a day after Shinzo Abe pledged to refocus on his 'Abenomics' growth project.
Now the Bank of Japan is under increasing pressure to ease monetary policy further, unleashing more stimulus to counter the downturn.