VW 'endangers whole diesel car industry'
Comments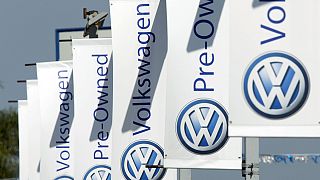 Many customers are typically shy of buying a used car, not a new one. But now world number one Volkswagen is faced with having to figure out how to regain confidence, after it broke the first rule of cheating.
All the manufacturers that sell diesels today are threatened by this.
Not wanting to look more foolish than dishonest, it now admits that it equipped 11 million of its cars marketed as 'clean diesel' with emission detection evasion devices, and has set aside 6.5 billion euros to start repairing the scandal.
Conscientious drivers believing the German manufacturer's claim it kept diesel pollutants (known as NOx) within legal limits, are shocked that it deliberately falsified test results.
One woman interviewed said: "I am appalled such a thing is possible in the first place. I am really embarrassed to drive a VW diesel now. I'm not sure I'm allowed to drive even one kilometre with it."
The intentional deception of US regulators carries an impact beyond its business, because it has laid bare weaknesses in the procedures used to measure output — which are not applied to real conditions.
Investigators said that during normal driving, harmful emissions or 'NOx' — nitric oxide and nitrogen dioxide — were up to 40 times past the legal limit.
Health advocates link the deaths of tens of thousands of people to air pollution each year.
Half the cars on Europe's roads are diesels, compared to less than 1 percent in the US. Volkswagen's strategy has been to make inroads there, promoting its products as 'clean diesel'.
The automobile sector in Germany already accounts for 14% of its GDP. Last year, VW sold 9.5 million cars worldwide. Exports of all German-made cars and car parts were valued at more than 200 billion euros in 2014.
The scandal is deeply embarrassing for German politicians, too, given the car sector is such an economic heavyweight, and especially Volkswagen. The state of Lower Saxony where it has its headquarters, in Wolfsburg, is a 20% shareholder in the group, and the state government's president and finance minister sit on the Supervisory Board.
We asked the Associate Editor-in-Chief of the magazine Auto Plus, in Paris, Pascal Pennec, about how this symbol of quality and reliability has come into such disgrace.
Fabien Farge, euronews: "CEO Martin Winterkorn has even had to resign, showing just how big this crisis is."
Pascal Pennec, Associate Editor in Chief, Auto Plus: "This is an unbelievable earthquake. In the whole history of the automobile, it's been very rare that matters have taken on a scale like this. It must be said that this problem is about cheating, admitted cheating, so the CEO was more or less obliged to take the fall, that's the rule."
euronews: "Is it truly an isolated case of cheating, or can we expect other revelations about other carmakers? The stakes are huge."
Pennec: "Clearly, the stakes are considerable, especially in Europe where diesel sales are serious, notably in France, where they represent more than 60% of sales. The size of the thing, obviously, for the moment is focused on the USA, in the sense that, logically, it seems that they only needed to cheat over there, where it's much tougher to meet the American environmental standards than it is in Europe. It was assumed that there wasn't any need to cheat in Europe, but investigations have been launched far and wide, and we'll see. On the other hand, now suspicion's been cast on the other brands selling diesels in the US, mostly BMW and Mercedes."
euronews: "Flagship of the German automobile sector, the famous "Das Auto"… Volkswagen's image is seriously hit. Do you think the whole German car industry is in danger?"
Pennec: "Oh, it's not only German industry that's in danger. All the manufacturers that sell diesels today are threatened by this. Will countries take retaliatory measures with a view to consumers? In any case, the doubt has been sown. Now people are wondering if everyone is cheating. Again, it doesn't seem likely in Europe, since passing the environmental standards really isn't that hard. On the other hand, the next stage of those standards is going to be a lot more complicated. When those come in, will the car manufacturers manage to meet the norms, while keeping costs reasonable, or not? They'll have to add so many anti-pollution devices it will be far too expensive."
euronews: "Is trust a real problem today, for the consumer?"
Pennec: "The consumer, you know, if it were a safety problem, he'd be really angry and suspicious, but where pollution is concerned, in the end, that's someone else's business. There's something egotistical about a car owner. If we avoid polluting, that's great, but if we pollute, it's not our fault, it's the car maker's fault. Therefore, it shouldn't have such terrible consequences, unless we were to discover that the deception was general, that we couldn't drive any cars any more, but that's just science-fiction."
euronews: "From a technical point of view, with diesel under the spotlight, isn't it time to give electric engines a chance?"
Pennec: "The day an electric car can perform like a diesel, we'll talk. But for the moment, they're like day and night. Imagine, on a full tank you can do 1,000 kilometres. That's incredibly cheap, while an electric car is still expensive, and its range is really limited. We just can't compare them. Diesel on the motorway and roads is irreplaceable. There's just no getting away from diesel for the moment. We just don't have enough technical alternatives today."