USA welcomes Pope Francis, after Cuba
Comments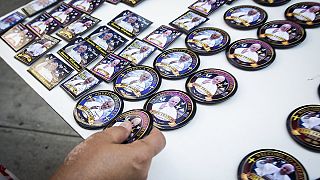 The nearly 80 million Roman Catholics of the United States are rolling out the red carpet for Pope Francis.
A growing share of Americans tell us that they have no religion.
Hot on the heels of a weekend in revolutionary Cuba, the most socially progressive pope in generations will touch down in Washington on Tuesday.
Here is his official schedule.
His six-day US trip will also take in New York and the UN, and Philadelphia.
The 78-year-old pontiff is to be the first to address the US Congress.
He is also helping to rejuvenate Catholicism in America, according to Cardinal Donald Wuerl: "We have a lot of our young adults who are saying they want to actively share their experience of faith with others. And this is now taking the form of going out onto the street and inviting other young adults to say a prayer, to rethink the place of God in their life. This is really all new."
But Americans overall are getting more secular, Gregory Smith of the Pew Research Center explained: "The United States is a very religious country, it's a nation of believers. It's a nation of people who mostly say religion is very important in their lives. At the same time, the United States is also undergoing some very rapid, very dramatic changes when it comes to religion. Perhaps chief among these is that we see a growing share of Americans tell us that they have no religion."
The Obamas will welcome Francis on Wednesday, at the White House. So will 14,000 other guests. As for his agenda, a senior official said: "We don't know what he's going to say until he says it."
Our correspondent Stefan Grobe summed up: "It's too early to tell whether the pope's visit here will have any discernible 'Francis effect' on American religious life – like higher church attendance or more charity work. But one thing is certain: Pope Francis has become one of the most beloved and respected figures in America."