Volkswagen shares plunge 20% over US emissions scandal
Comments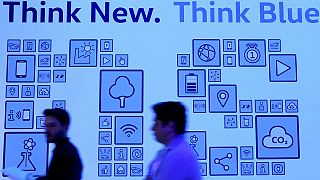 Volkswagen has stopped marketing its Audi and VW diesel models in the United States, a spokesperson has told AFP.
It came after regulators found some cars falsified data on pollution levels.
Shares in Europe's largest carmaker lost more than a fifth of their value in the wake of the allegations.
BREAKING: #Volkswagen's shares fall 25% after U.S. emissions scandal http://t.co/5ZD5WGl9PJpic.twitter.com/uWAUH3hUDi

— Bloomberg Business (@business) September 21, 2015
The US Environmental Protection Agency (EPA) said Volkswagen could face fines of up to $18 billion (16 billion euros) – on the basis that each vehicle affected could incur a fine of $37,500 (33,350 euros).
"I think EPA is trying to send a message to Volkswagen in this particular case, but to the industry as a whole, that they're not going to tolerate any funny business when it comes to the emissions standards," said Sam Abuelsamid, Senior Analyst at Navigant Research.
VW shares lost over 20 percent on the DAX index in Frankfurt on Monday, the biggest fall in one day for seven years.
Shares in rival carmakers fell too in Germany; analysts say the allegations could have an impact on the wider industry.
The US government ordered VW to recall nearly half a million cars following the claims that software had been installed designed to cheat emission tests and allow cars to produce up to 40 times more pollution than authorised.
VW and Audi are recalling 482,000 Jettas, Beetles, Golfs, Passats and A3s sold since 2008.
There are calls for Volkswagen's CEO to quit after what one car industry expert described as a disaster 'beyond all expectations'.
Chief Executive Martin Winterkom has apologised, saying he was 'deeply sorry' that the public's trust in the company had been broken. He said an investigation into the device had been launched.
Could VW</a> really be fined nearly $18bn? The emissions 'cheat' software scandal explained: <a href="http://t.co/aE7SDKSjjN">http://t.co/aE7SDKSjjN</a> <a href="http://t.co/ztj6YEx8OJ">pic.twitter.com/ztj6YEx8OJ</a></p>&mdash; CAR magazine (CARmagazine) September 21, 2015
Guess who was just recently crowned as the "world's most sustainable automotive group" http://t.co/glS05GdwYR#volkswagen#Diesel

— Olaf Storbeck (@OlafStorbeck) September 21, 2015