#Piggate: Lurid claims about David Cameron capture imagination of British press
Comments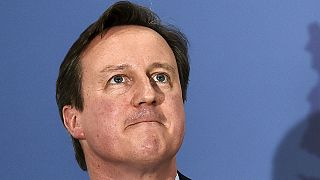 A colourful biography of Britain's prime minister written by a former friend who was once the biggest donor to David Cameron's Conservative party, has caused a stir in the country's media.
The book, by Lord Ashcroft, claims that Cameron knew his friend was not paying tax in the UK at the same time that he was donating millions to the Conservatives but also contains vivid details about the pair's time at Oxford University.
The most sensational claim, dominating social media chat, is that at an event organised by a notorious student club, the prime minister did something with a pig's head. (if you want the detail, it's in the Mail report) The source for the story is an unnamed MP and a photograph of the incident, part of an initiation ritual, is said to exist.
Drawing on interviews with former colleagues, and friends of Cameron, the book adds he smoked marjuana and makes other accusations about drug-taking among his circle of acquaintances.
PM's spokesman on Ashcroft book: "I am NOT going to dignify this book with any comment. The author has set out his reason for writing it."

— Christopher Hope (@christopherhope) 21 Septembre 2015
As pointed out in the Daily Mail's serialisation, Ashcroft's acknowleged motive in writing the book Call Me Dave is partly revenge for his failure to secure a senior position in Cameron's government.
Other political commentators have dismissed the importance of the political allegations. But the claims about Cameron's behaviour, whether or not they are true, have certainly given ammunition to satirists.
All of you who are telling pig jokes about David Cameron are real swines. These stories are just boar-ing and probably hogwash. #PigGate

— Jonathan Roberts (@robertsjonathan) 20 Septembre 2015
Look, it's embarrassing for me, too.

— Cameron's Pig (@CameronPig) 20 Septembre 2015