Seven dead in migrant boat tragedy off Libyan coast
Comments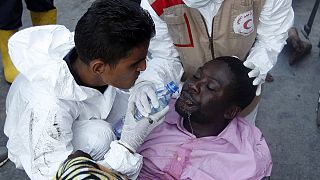 At least seven migrants, including a young child, have died after their boat sank off the coast of Libya.
More than 100 people were rescued by a passing oil tanker.
The group had been attempting to cross the Mediterranean to Europe.
The Libyan tanker docked in Tripoli, where Red Crescent workers helped survivors. Some of them suffered serious injuries during their ordeal.
They are among the latest migrants trying to make a daring life-or-death trip across the water.
Last month, at least 37 people were killed when a boat sank off the Libyan coast. That incident came just days after another sinking left some 200 people dead.
Lawless Libya has turned into a major transit point for those fleeing conflict and poverty in Africa and the Middle East.