Rugby prepares to welcome rugby back home
Comments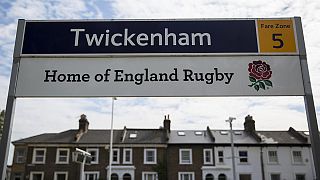 The start of the Rugby World Cup has special significance in the heart of England, in particular the Midlands town the game took its name from.
Football already existed in the 19th century and different forms of the game where being played up and down the country in boys' schools, but the game took an unexpected twist when one pupil, William Webb Ellis, decided to take matters into his own hands…
Rugby school librarian and historian, Rusty MacLean explained how Webb Ellis broke all the rules at the independent school.
"We've been playing an early game of Rugby football – and we still call it 'football' within school – even in the 18th century, but it was in the 19th century that the rules which the boys had created – so it wasn't a mob game as such, it was carefully thought out – the boys had created these rules, changed them, developed them, but 1823 saw William Webb Ellis break one of those rules and create the distinctive feature which is the Rugby School game."
Rugby balls are still hand-sewn in the town, which will not host any world cup matches, but will have a very large fan zone.