Refugees may be Germany's 'next economic miracle', says Daimler boss
Comments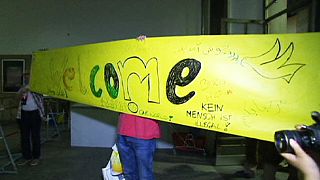 The huge influx of refugees and migrants into Germany could turn out to be the foundation for the country's next economic miracle, according to the head of one of its major carmakers.
Far from being a danger, immigration presented an opportunity, he said – referring to Germany's postwar boom to which millions of "guest workers" contributed.
The comments at the Frankfurt Motor Show came from the head of Daimler the makers of Mercedes-Benz.
Dieter Zetsche acknowledged that accommodating the numbers was a "herculean task" for Germany, and that not everyone arriving would be a "brilliant engineer, mechanic or entrepreneur".
But he added that many would be well educated and highly motivated, citing successful examples of migration elsewhere, such as in Silicon Valley.
#Daimler's Zetsche getting applause at #IAA media night: Automakers See Opportunities From Migrants http://t.co/e07KXsAeld via business</a></p>&mdash; Elisabeth Behrmann (ElisBehrmann) September 15, 2015
Last week Zetsche and other German bosses appealed for refugees to be allowed to work.
Like other parts of Europe, Germany faces a looming labour shortage – in its case the population is expected to age and shrink significantly in the coming decades.
This map helps explain why some European countries reject #refugees & others love them http://t.co/HP4NG87il4#Daimler needs workers, tada

— Cheron (@CosmoTyme) September 13, 2015