Refugees massed on Serbian border face long walk into Europe
Comments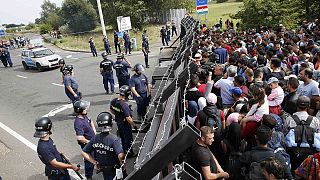 Hungary has declared a state of emergency and has totally closed its borders to anyone, with the result that on the Serbian side a great crush of people is building up as more people arrive by the hour.
Hungary is now extending its razor wire fence along the Romanian border. The fellow EU member has condemned the move as against the "spirit" of the bloc.
Criminal prosecutions are underway against 176 people who tried to cross after new laws came into effect on Tuesday.
Some have gone on hunger strike to demand they be allowed to relocate elsewhere.
"We are staying here for a hunger strike. We'll not move from this point until we arrive in Vienna. We want to go to Vienna; we don't want to stay in this country. We like them but my family is in Belgium, I want to go to them. Just this," said a Syrian man.
Others have decided that there is no point waiting and have reportedly set off on foot for Romania and Croatia to try their luck there.
Some on the Hungarian side complain that they have been given no water for days.
Between the heavy security forces presence and many refugees' unwillingness or inability to talk, it was very difficult for our correspondent to interview any, unless it was through the fence itself.
"One police officer said it is very important to not touch this. If you touch this, we will take you to jail. All of you," said an Afghan man, indicating the razor wire fence.
Activists have gone to the Greek-Macedonian border to advise refugees on alternative routes, but some of those already in Serbia are just trying to punch through the fence, giving the Hungarian security guards the runaround.
"We can see that the fence was repaired here after someone cut it. Those who cut the fence, according to the new law, have committed a crime and can go to jail," reports euronews' Andrea Hajagos.