Airbus opens first American plant in Mobile, Alabama
Comments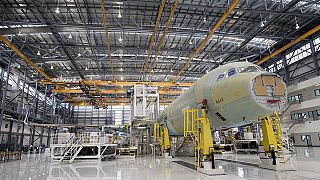 Airbus has officially opened its first assembly plant on American soil, in a clear challenge to its US rival Boeing.
The site at Mobile, Alabama is the result of a $600 million, (530 million euros), investment by Europe's leading aircraft manufacturer.
Airbus intends to assemble its A320 medium-sized airliners from parts built elsewhere in the Gulf Coast city, as it sets its sights on expanding its share of the North American market.
"Today is a moment of pride, not only for my teammates behind me but for all Airbus people, everywhere.Today Airbus is becoming a truly global manufacturer and a truly American manufacturer," said Airbus CEO Fabrice Brégier.
.Airbus</a> made the best decision when it chose Mobile & AL for its facility. It&#39;s an honor to celebrate its opening. <a href="http://t.co/rLb96dduhr">pic.twitter.com/rLb96dduhr</a></p>&mdash; Gov. Robert Bentley (GovernorBentley) September 14, 2015
New figures show that Airbus beat Boeing on orders in the first half of this year but that it remained behind on deliveries.
Airbus said it had won orders for 382 aircraft over that period, compared to 325 for Boeing.
However Boeing maintained a lead in terms of deliveries, the main indicator for short-term revenue. The US planemaker delivered 381 aircraft in the first six months, while Airbus said it had delivered 304 planes to customers.
The European planemaker still lags behind Boeing in the US, the world's biggest market for airliner sales, though new orders for single-aisle planes should help Airbus make inroads.
Some analysts believe higher production rates at the American manufacturer should help Boeing sustain its global market share.
Morning Alabama! Today's the day as we officially open our U.S. Manufacturing Facility in City_of_Mobile</a>! ... <a href="https://t.co/qaiukV9Cj9">https://t.co/qaiukV9Cj9</a></p>&mdash; Airbus (Airbus) September 14, 2015