Berlin: museum digs up part of Lenin statue
Comments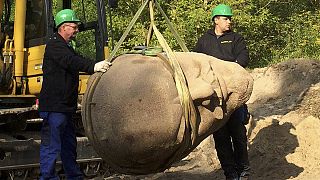 Part of a 19-metre high statue of Soviet state founder Vladimir Lenin has been unearthed in woods, on the outskirts of Berlin.
The dig was organised by a local museum which has been trying to get the statue for an exhibition.
The secret site where the granite Lenin statue weighing several tons was buried in 1991 lies in a wooded area home to a rare species of sand lizards.
The sand lizards had to be relocated before the excavation was allowed to begin and only a handful of reporters were invited to film the unearthing, to prevent the accidental trampling of any lizards left behind.
Until its dismantling in November 1991, two years after the fall of the Berlin Wall, the gigantic Lenin statue stood in Lenin square in eastern Berlin's Friedrichshain district.