Refugee crush overwhelms EU Dublin rule
Comments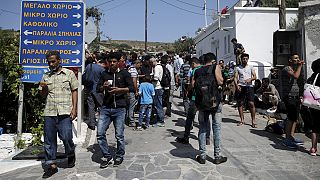 More and more refugees are trying to avoid being registered. This applies especially for the registration centre of Roszke, near Hungary's border with Serbia, on the Balkan route into the European Union.
The Dublin rule is no longer working.
A Hungarian humanitarian volunteer said the Dublin rule inspires lasting fear.
Mark Kekesi, with the NGO 'Migrant Solidarity', said: "The refugees are afraid of the Hungarian fingerprint regime because they are well aware of the fact that if their fingerprint is recorded in Hungary, then legally there is the opportunity for any Western European country to send them back to Hungary."
The rule is enshrined in the EU Dublin Treaty. It says that any country signed up to it is responsible for processing an asylum request: the country the applicant first set foot in. That is supposed to stop a person from applying in more than one place.
There is a margin of flexibility for persons trying to join family already in one of the signatory states.
In general, the Eurodac common database is used to check that applicants' fingerprints show up just once.
There are 32 Dublin countries, all the EU members plus Iceland, Norway, Lichtenstein and Switzerland.
However, given the numbers of refugees arriving in EU bloc countries with external borders, even if everyone submitted willingly to registration, it is very hard to do it fast enough, properly.
Bulgarian euro-MP Iliana Iotova said: "The Dublin rule is no longer working. Some member states with external borders have stopped registering migrants because they don't have the resources."
The Dublin procedure has other weaknesses; experts such as Sergio Carrera with the Centre for European Policy Studies (CEPS) in Brussels, do not dispute that adjustments would be in order.
Carrera said: "If a person applies in Greece and it decides that person is not a refugee, and that woman or man goes to Germany, the authorities there cannot study the request a second time; they recognise him or her as not being a refugee."
Dublin, therefore, leaves room for strain between its members, especially when some let asylum-seekers continue to others without registering them. And some refugees will refuse to apply for asylum where they consider the conditions on offer not as good as elsewhere, as in Denmark. They would sooner walk to Sweden, whose conditions are more attractive.