Tech fans poke fun at iPad Pro and Apple Pencil on social media
Comments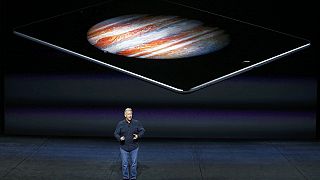 Critics took to Twitter to mock the latest releases from the US technology firm.
The company unveiled new iPhones, an iPad Pro with a pencil accessory and an upgraded version of its TV box.
Chief executive officer Tim Cook showed off the new devices at San Francisco's 7,000 seater Bill Graham civic auditorium.
The new iPad Pro comes with four speakers, is 6.9mm thin but with a 12.9-inch display it is the company's biggest pad yet. It comes with a $169 Apple Pencil.
Many were quick to note that Steve Jobs, the late company's co-founder, mocked the idea of a stylus. Others openly made fun of the reinvention of a daily tool and its price.
The Ipad Pro was not spared as fans took to social media to poke fun at what they considered was its inflated size.
No comments #iPencil#wemissyouStevepic.twitter.com/EyaXcbxf4E

— Gonzalo Romero (@GonzaloETC) September 9, 2015
Apple Pencil. That rolling sound? That's Steve in his grave.

— Nimish Dubey (@nimishdubey) September 9, 2015
Apple Pencil prototype leaked pic.twitter.com/cE4eH9gcVT

— Eric Sapp (@ericsapp) September 9, 2015
Apple Pencil prototype leaked pic.twitter.com/cE4eH9gcVT

— Eric Sapp (ericsapp) <a href="https://twitter.com/ericsapp/status/641665684695441408">September 9, 2015</a></blockquote> <script async src="//platform.twitter.com/widgets.js" charset="utf-8"></script> <blockquote class="twitter-tweet" lang="en"><p lang="en" dir="ltr">Hate to brag, but i am the first person to get my hands on the new <a href="https://twitter.com/hashtag/Apple?src=hash">#Apple</a> <a href="https://twitter.com/hashtag/Pencil?src=hash">#Pencil</a> <a href="http://t.co/LfaekHlfWh">pic.twitter.com/LfaekHlfWh</a></p>&mdash; Daddy (LifeisSavage) September 9, 2015
iPad Pro seduces Twitter but Apple Pencil gets the shaft http://t.co/CXwBvLpheRpic.twitter.com/yrkxvPrh57

— Cult of Mac (@cultofmac) September 9, 2015
Hey Apple, I know you've got a $100 pencil but this one works too. pic.twitter.com/fIvxUjRtZ8

— Austin Evans (@austinnotduncan) September 9, 2015
Para borrar lo que escribas con el #iPencil necesitas la iGoma y si le borras con la parte azul te rompe el iPhone pic.twitter.com/dzOjWHu81t

— True Colors (Gus) ◢◤ (@guzilook) September 10, 2015
Wait. Did #apple just invent the #pencil?

— John Legere (@JohnLegere) September 9, 2015
Didn't see this coming: "Apple Pencil." $AAPLpic.twitter.com/oyfKKszdko

— scott budman (@scottbudman) September 9, 2015
And you guys. They're making a stylus for it. Called Apple Pencil. And Apple Pencil gets its own Jonny Ive video. NO JOKE.

— Molly Wood (@mollywood) September 9, 2015
"Apple Pencil" IT IS LITERALLYJUST A STYLUS

— Sophie Kleeman (@sophie_kleeman) September 9, 2015
The Apple Pencil. It's not a stylus, guys.

— Benjamin Mayo (@bzamayo) September 9, 2015
Victorious did it first. #iPadPropic.twitter.com/l3VUCDh5ei

— yer a lizard, barry (@burcumcclelland) September 9, 2015
Look, I'm sure the #iPadPro is a good device. It just drives me NUTS when they copy and proclaim it "innovation".

— Ben Rudolph (@BenThePCGuy) September 9, 2015
CAN'T. WAIT. #iPadPropic.twitter.com/Fv8t2qJwAg

— Mathieu Lebreton (@god_daaamn) September 9, 2015
Ppl at the shows be like #iPadPropic.twitter.com/Xy2C7QXtje

— Mathieu Lebreton (@god_daaamn) September 9, 2015
The iSupport – also to be sold alongside the #iPadPro. Because no one should hold a TV one-handed. pic.twitter.com/5Jfz6v31rx

— Raz (@raztweets) September 9, 2015
Holy f*ck that's big. #TWSS#iPadPropic.twitter.com/dnXmMmabZm

— Jonathan Morrison (@tldtoday) September 9, 2015
.apple</a> just snapped this picture of <a href="https://twitter.com/meechone">meechone using his #iPadPro. You guys rock! pic.twitter.com/OAUnOcZrCo

— Zoo With Roy (@zoowithroy) September 9, 2015