Turkish election "impossible" as violence spreads
Comments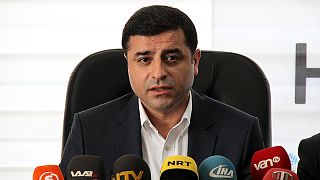 Turkey's chances of holding an election in November are "becoming impossible" because of growing unrest, according to the head of the pro-Kurdish opposition.
The collapse of a ceasefire in July between the government and Kurdish insurgents has led to almost daily clashes.
Selahattin Demirtas, the head of the opposition Kurdish Peoples' Democratic Party (HDP) said: "I am wondering about how we can hold elections in Cizre. If we don't maintain stability with peace, how will we hold elections and will people vote? I am talking about a reality here."
On Tuesday, nationalist crowds attacked the office of a newspaper in Istanbul and the Ankara headquarters of the pro-Kurdish opposition.
According to the government, more than 100 members of Turkish security forces have been killed since the conflict resumed in July.
The ruling AK party hopes November's election will restore its single-party majority and provide a mandate for stronger presidential powers for Recep Tayyip Erdogan. Opinion polls suggest, however, an overall AKP majority is unlikely.