Migrants: flow continues through Hungary and Austria to Germany
Comments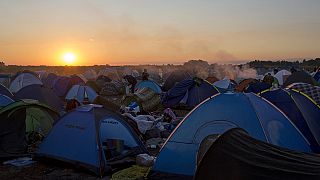 Hundreds of migrants are continuing their journey towards the German border, after spending the night in emergency accommodation at a Vienna train station.
Local police estimate around 450 arrived late in the evening on trains from Hungary.
They are being directed onto trains heading west towards Germany.
The situation in Hungary
A #migrant is stopped by Hungarian police officers as he tries to escape on a field, #RoszkeREUTERS/markodjurica</a> <a href="http://t.co/b7el2PzjTt">pic.twitter.com/b7el2PzjTt</a></p>&mdash; Reuters Paris Pix (ReutersParisPix) September 8, 2015
In Hungary, police say 2,500 migrants are thought to have crossed the border from Serbia on Tuesday.
It means more pressure on the temporary holding camp at Roszke, where the situation is already tense.
"We came here last night. We tried to get across the border without being fingerprinted." one man told reporters.
The area has become a bottleneck.
Nearby transit camps are struggling to cope with the demand.
Crowds of migrants are said to be gathering once more at Budapest's main station, hoping to get a train to Germany.