MEP wears Merkel mask in apparent anti-migrants protest
Comments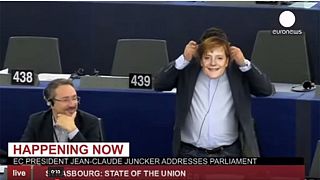 Controversial Italian MEP Gianluca Buonnanno caused a stir in the European Parliament by donning a mask of German Chancellor Angela Merkel.
Buonnanno, a member of Italy's right-wing Northern League party, performed the stunt during a speech by European Commission president Jean-Claude Juncker.
It is likely linked to a picture the MEP posted to Twitter on September 7, which had a man wearing a Merkel mask and a t-shirt with the slogan: "Merkel: Syrian refugees for us. African migrants for Italy."
Ecco la Merkel a casa mia… E domani verrà con me a Strasburgo !!! pic.twitter.com/6SCqCQVKn9

— Gianluca Buonanno (@BuonannoG) September 7, 2015
It is not the first time Buonnanno has courted controversy. In 2014 it was reported he 'blacked up' for a parliamentary debate in Italy in which he claimed the country's benefits system was geared towards migrants.
A petition was launched last year calling for Buonnanno's resignation from the European Parliament.