'Long to reign over us' Queen Elizabeth Britain's longest serving monarch
Comments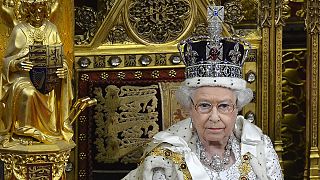 Elizabeth II, by the Grace of God, of the United Kingdom, Canada and Her other Realms and Territories Queen, Head of the Commonwealth, Defender of the Faith, was crowned at Westminster Abbey on June 2, 1953 at the age of 25.
She becomes on Wednesday (Sept. 9) the longest-reigning monarch in British history, surpassing the record of her great-great-grandmother Queen Victoria of 63 years, seven months and two days.
Elizabeth Alexandra Mary Windsor was born at 2.40 am on April 21, 1926 at 17 Bruton Street in Mayfair, London.
She was the first child of The Duke and Duchess of York, who later became King George VI and Queen Elizabeth.
Her teenage years were spent with the British at war and this perilous period reinforced her sense of duty.
At the age of 21 she made the following vow: "I declare before you all that my whole life, whether it be long or short, shall be devoted to your service and to the service of our great imperial family to which we all belong."
The Queen and her husband Prince Philip have four children, with Charles, Prince of Wales, the first born.
Charles married Diana in 1981 and from then on her family edifice began to unravel. In 1992 her son Prince Andrew separated from his wife, her daughter Princess Anne divorced her husband, there were lurid tabloid tales — excruciatingly embarrassing for the Queen — and her beloved Windsor Castle was damaged by fire.
Speaking at the Guildhall in November she lamented a bad year: "1992 is not a year on which I shall look back with undiluted pleasure. In the words of one of my more sympathetic correspondents, it has turned out to be an 'annus horribilis'."
It was to get worse in December 1992: Charles and Diana separated and on August 31, 1997, Diana, Princess of Wales died in a car crash in Paris, leaving the young princes William and Harry without a mother.
The international role of Queen Elizabeth as a global diplomat cannot be underestimated. She has seen 12 U.S. presidents come and go and worked with 12 British prime ministers plus a host of world leaders.
At 89, the Queen continues to reign with "grace, dignity and decency" with two great-grandchildren for company.
Euronews reporter Alasdair Sandford spoke to royal biographer Ingrid Seward, author of a new book "The Queen's Speech", on the record breaking reign of Queen Elizabeth II.
Alasdair Sandford, euronews:
"Now people have a certain idea of the Victorian era with the then Queen at its head as a powerful symbol. How has the present Queen stamped her mark on the modern Elizabethan era, would you say?"
Ingrid Seward: "Well the present Queen is a symbol of unity, she has never spoken about her political views, she's never spoken about her personal views, she's above politics, she's someone who, in this rapidly changing world, we can look up to and she's a steadying influence. She's one of the people in the world who have put duty before self – she's not part of the "me" generation."
Alasdair Sandford:"Seen from around the world the British monarchy stands out and commands a particular awe and attention among lots of people. Why is that? And how much is due to the Queen herself?"
Ingrid Seward:"Well I think it's partly because the Queen has been head of state for 63 years and she's seen a dozen prime ministers, she's seen wars, she's seen turbulence, she's seen everything, she's met dictators, she's met wonderful people, she's met everyone. So here is this one woman that represents the whole of Great Britain."
Alasdair Sandford: "And you mention she's always put duty above herself, in what ways would you say?"
Ingrid Seward: "When she came to the throne she had two young children and she could seldom see them. She literally hadn't been educated to take over the throne at this young age. We knew the king was ill, but we didn't know the king was going to die, and she just had to step into her father's shoes and it meant she could no longer be a mother… she was a monarch."
Alasdair Sandford: "It's a very different era now. At the London Olympics a few years ago she took part in that marvellous James Bond sketch which was something that was unimaginable at the start of her reign. How has she adapted her role over those 63 years?"
Ingrid Seward: "She was very nervous at the beginning, she was very young, she followed exactly what her father had done before her. And then, as she matured and as life went on she started to do more of the things the way she wanted to do them. And I don't think the James Bond sequence would have been done when she was younger. But she's so confident in herself, confident in her own skin – in fact Prince Philip wasn't so keen for her to do it but I think the Queen just thought "no, I want to do this". And of course it was marvellous, marvellous for her. Everyone loved it."
Alasdair Sandford: "In terms of popularity, there was, of course, a low point at the time of Princess Diana's death. What about high points, are there any that particularly spring to mind for you?"
Ingrid Seward:"At the end of the year that Diana died in 1997 the Queen celebrated her golden wedding anniversary and suddenly she realised the people still loved her. She's very humble, she really thought the monarchy was in a low. I think that was a high point, because it came after a very low point. Then obviously her Diamond Jubilee was a very high point and she was extremely moved by the warmth and the affection that her subjects showed her."
Alasdair Sandford: "There have been plenty of royal scandals, but the Queen herself has barely put a foot wrong… How?"
Ingrid Seward:"I think the Queen has never put a foot wrong because she's extremely cautious, she's careful what she says, she's careful what she does…in private she's a different personality, but in public she has a certain persona. As she's older, she's allowed us to see a little more of her, understand her a little better. But she's always been the two people: "Lilibet", which is her nickname which Prince Philip gave her – and the Queen."
Alasdair Sandford: "How different is the Queen behind the scenes from what we see in terms of her public persona?"
Ingrid Seward: "Well behind the scenes the Queen is extremely funny, she's a very humble woman, she's a devout Christian, but she's really funny, she has a wonderfully waspish sense of humour and she's also a great mimic, which she now allows some of us to see a little bit… her mimicry. I think she has always been the one who has kept her family laughing and she has a very cheerful persona… she looks on the bright side of things, rather than the dull side of life."
Alasdair Sandford: "Ingrid Seward royal biographer, thank you very much for joining us on euronews."
"Thank you."