Hungarian camera woman caught on video kicking and tripping migrants could face jail
Comments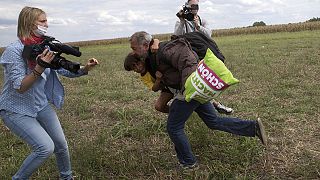 A camera woman in Hungary has been caught on video tripping and kicking migrants at a reception centre for refugees in Roszke.
Petra Laszlo, was filming for the youtube-based channel N1TV, which is close to the far-right Jobbik party.
As a man carrying a toddler runs by she clearly puts out her leg, causing him to trip and fall to the ground.
In another incident Laszlo is seen kicking a girl who runs past her.
A German journalist filmed her actions and posted a video on his twitter account.
Lage in #Roeszke#Hungary weiter schlimm – Polizei überfordert – Flüchtlinge durchbrechen Polizeikette – Verletzte! pic.twitter.com/GlMGqGwABb

— Stephan Richter (@RichterSteph) September 8, 2015
The woman has since been fired by N1TV, and a British newspaper reports that she could face up to five years in prison if she is charged.
On its facebook page the channel said her behaviour had been unacceptable.