Denmark blocks routes to Germany as refugees refuse to register
Comments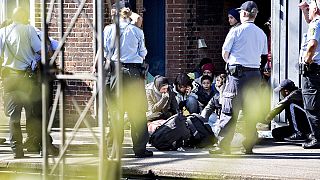 Denmark has stopped all trains running to Germany due to exception passport checks.
The move comes after hundreds of refugees travelling from Germany refused to leave a service in the Danish town of Rodby. They feared being registered by police would force them to seek asylum in Denmark rather than Sweden.
Many refugees are moving across Denmark from Germany to reach Sweden, which has one of Europe's most open policies toward asylum seekers.
Earlier, Danish police closed a motorway leading to Germany after around 300 refugees marched across the country.
The Danish government has taken out adverts in four Lebanese newspapers this month to outline measures including cuts of up to 50 percent in benefits for asylum seekers.