Dirt pitches and abandoned academies - FIFA's Pakistan project scores own goal
Comments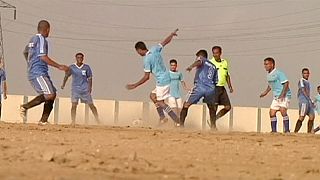 A dirt pitch on a windswept plot by the Arabian Sea near Karachi, Pakistan.
It's not quite up to FIFA standards and yet this centre is among the projects that allegedly received money from football's world governing body under its "Goal" program.
The program – controlled entirely by FIFA – funds pitches for youth academies and stadiums in some of the poorest corners of the world.
But the poor condition of the centres has led some to criticism FIFA's use of the money.
Pakistan Football Federation president, Faisal Saleh Hayat said: "It's the FIFA office, the FIFA development office, which gives the contracts, appoints the consultants, appoints the contractors and overseas the construction work. That member association has got nothing to do with the award of contract, with the award of anything, or with the overseeing of that project. So, in answer to your question, FIFA has not given us a single penny for the construction of these projects. This is how they operate. This is their standing operating procedure, of FIFA."
Karachi is one of eight 'Goal' projects that was supposed to get more than just a lick of paint.
The one in Abbottabad has a playing field but little else while the Peshawar Centre built in 2006, is abandoned and only used by the local graffiti artists.
The only project completed, fully functional and actually needing a lawn mower is a the Pakistan Football Federation's headquarters in Lahore — the other side where the grass is definitely greener.