Peugeot and Renault in pole position to enter Iran's car market
Comments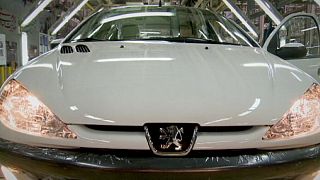 It's Iran's biggest industry after oil: car-making. And the expected phasing out of sanctions following July's nuclear deal means the race is on to enter the huge domestic market.
Before sanctions were imposed, choking domestic demand, Peugeot was the biggest selling European manufacturer in Iran.
PSA is looking to strike a bigger deal with Iran Khodro, the country's largest manufacturer, though its French rival Renault is also looking to get in on the act.
Iran is already the Middle East's largest car market, and despite the current slump there are forecasts that growth could accelerate rapidly over the next few years with the lifting of sanctions.
Economy Analyst Saeed Leilaz believes however that there will be no immediate effect.
"I know that Iran Khodro and Peugeot are having really constructive negotiations and other Iranian factories with Renault; however, we can only import new products from these companies. Neither of them will make new investment in Iran," he said.
The huge market is not something European carmakers can ignore several delegations have visited Iran since the deal was announced.
But it's thought the hardline stance of the French government during the nuclear talks may favour other European countries.
"As you know, we are cooperating with Renault, Peugeot, and Suzuki, but I previously said that alongside these companies, we will choose a powerful European country, other than France, as our fourth partner," said the Chief Executive of national carmaker Iran Khodro, Hashem Yekke Zare.
Despite high customs tariffs often doubling the sales price, foreign luxury cars still roam the streets of Tehran.
The nuclear deal has brought fears that more sales of foreign cars could hurt the domestic industry.
A "Don't Buy Brand New Cars" campaign has been spreading.
"This campaign started after the slump in the market and rode on the wave, rather than causing it. But I believe the most important point to consider in current conditions is that the main car customers are not willing to buy," says industry journalist Arash Rahbar.
Low quality, high prices, and people's concerns over the international deal are all behind the current market slump.
The government is providing loans to help the industry survive.
Iran hopes to produce three million cars a year by 2021. To reach those production goals it definitely needs to cooperate with the world's carmakers.
Euronews' correspondent in Tehran Javad Montazeri said:
"Despite all the challenges, it seems that with the removal of sanctions, President Rouhani's support, and partnerships with world-famous companies, Iran's car industry should get back on its feet."