Oil down again, UK North Sea job losses total 5,500
Comments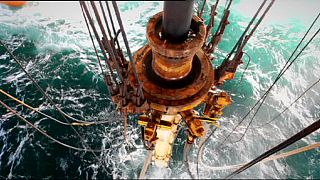 Oil markets were down again on Monday amid continued fears over the fall in prices, the glut in global supply, and a slowdown in demand in China.
The Shanghai Composite Index declined, prompting losses on futures markets in New York and London.
Prices are still below $50 (44.8 euros) a barrel having fallen more than 25 percent since this year's peak in June.
There are calls for an emergency summit of OPEC heads of state amid fears that the oil producers' organisation will be unable to stabilise prices.
Oil ministers from OPEC countries meet on September 10.
"You have extreme situations, like Venezuela and Ecuador which are really in great difficulty, meanwhile petrol companies cannot invest, it's simple. And besides as we've seen, investment is falling all around the world. In a few years time, we are going to find ourselves in a situation where we can no longer satisfy demand, and at that moment prices are going to take off," said Pierre Terzion, Director of PetroStrategies.
Britain's North Sea oil and gas sector has lost 5,500 jobs since late last year, according to the UK's new Oil and Gas Authority.
North Sea operators including Shell (RDSa.L), BP (BP.L), Chevron (CVX.N) and ConocoPhillips (COP.N), have all announced cuts. The oil companies have been particularly badly hit by the dramatic slide in Brent crude prices – down by nearly 55 percent since June last year.
Operating costs are soaring as resources decline; UK oil production is down to its lowest level since output started in the mid-1970s.