China's foreign reserves suffer biggest monthly fall on record
Comments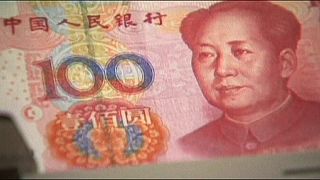 China's foreign currency reserves suffered their largest monthly fall on record in August.
It's the result of heavy intervention by the central bank to support the yuan after last month's surprise devaluation – but the drop was less than some commentators had feared.
Figures from the People's Bank of China show that reserves dropped fell by $93.9 billion (84 billion euros) to $3.557 trillion (3.2 trillion euros), as capital outflows escalated due to fears over China's economic slowdown and prospects of rising US interest rates.
One analyst said the drop in reserves was amplified as the dollar fell against other major currencies.