German border and hearts opened to thousands of relieved refugees
Comments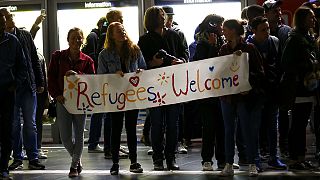 Germany's welcome couldn't have been warmer for the thousands of exhausted migrants and refugees who entered the country from Hungary, via Austria, on Saturday.
We have to give them what we can. We have to show them they are welcome
Clapped and cheered as they got off trains in Munich, new arrivals queued at registration tents to be screened, fed and clothed.
Some carried pictures of Chancellor Angela Merkel.
By throwing open Germany's borders, she has made the refugees' dream possible – the dream of living safely away from the bloodshed of a civil war and of making a fresh start.
Germany's chancellor is brave, decisive and right http://t.co/p7NQo0GTFtpic.twitter.com/5SrmlnhNXY

— The Economist (@TheEconomist) September 5, 2015
"My shop is bombed. My house bombed. I decided to go from Syria. I hope to find here a better life to me and to my family," said 37-year-old shopkeeper Homam Shehade.
German children offered gifts to new arrivals their own age and German adults spoke about welcoming the refugees – seeing it almost as a duty.
"I come from Regensburg and came down to Munich to be with the Munich residents when they greeted their guests like a world-city, with open hearts. That is why I am here," said Albert Wagner.
"We are living so well and we can finally help them," added Munich resident Barbara Luehers.
"We have to give them what we can, we have to show them they are welcome, and it is terrible how they were treated in Hungary."
Germany, which expects to receive 800,000 refugees and migrants this year, has declared that it will accept Syrians' requests regardless of where they entered the EU.
Relieved migrants pour into Austria and Germany from Hungary http://t.co/AGZtirn5kf by @MattMcBradley, @margitfeherpic.twitter.com/cwjpe7X9S8

— Wall Street Journal (@WSJ) September 5, 2015
Huge challenges remain for the refugees but hope, perseverance and German generosity will help those who have travelled so far to begin their new life.