G20 says US interest rate rise unlikely to harm global growth
Comments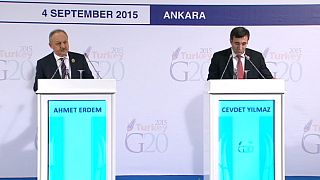 The G20's finance ministers and central bank governors have begun a two-day meeting in the Turkish capital to discuss the global economy.
In an early communique delegates announced they would calibrate and communicate monetary policy carefully to avoid triggering capital flight around the world. But the G20 wants more even growth for everyone.
"As G20 members we have promised to take more than 1000 measures. Until the end of 2018 we will demand that every state in the global economy takes economic measures to allow each country to have economic growth of at least 2%. Today we can see that we have achieved that in 30% of the countries. We are on the right track. But we have a long way to go," said the host and Turkish Deputy Prime Minister and Economy Minister Cevdet Yilmaz.
The group says it sees no immediate downside to any US interest rate rise, and does not think it will lead investors back to dollar assets at the expense of developing countries.
As forecast the G20 has refrained from criticising China's economy and the widespread belief Beijing needs to tackle structural issues such as rising bad debts.