ECB trims Eurozone growth and inflation forecasts
Comments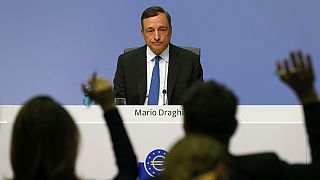 The European Central bank has cut its growth and inflation forecasts for the eurozone at its latest policy meeting. The news sent the euro to a two-week low.
The bank left exchange rates unchanged, and said if the climate darkened further it would consider increasing its money-printing programme now and stimulate the eurozone economy beyond September 2016.
"Economic growth in the euro area is likely to continue to be dampened by the necessary balance sheet adjustments in a number of sectors, and the asset purchase programme continues to process smoothly. These purchases have a favourable impact on the cost and availability of credit for firms and households," said ECB boss Mario Draghi.
Things could get worse warns the bank, and more bond-buying could also take place to shore up the economy if China slows and prices continue to fall.
The growth downgrade suggests Europe won't hit 2% growth until 2018, with a strong euro another factor hampering progress.
On Thursday the IMF lent its voice to supporting greater quantitative easing, saying greater global downside risks and increasing volatility justified the measure.