Japan complete team double on final day of Judo World Championships
Comments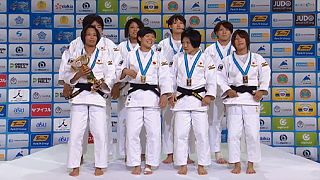 Japan thrashed surprise finalists Poland to win the women's team title at the World Judo Championships in Astana, Kazakhstan.
Having already beaten Brazil, China and Mongolia by winning every single bout, the final against Poland was no different as Japan showed off their superiority with a 5-0 victory.
Misato Nakamura, Anzu Yamamoto, Miku Tashiro, Chizuru Arai and Kanae Yamabe joined forces in devastating fashion in the final to clean up and offer the Land of the Rising Sun another gold.
Japan went on to celebrate a team double after its men beat South Korea on the final day of competition, although it wasn't as an emphatic victory as the women's triumph.
Haven beaten Germany 3-2 in the semis Japan repeated that scoreline against the South Koreans en route to gold.
With the score finely balanced at two wins apiece Takeshi Ojitani tipped the title in Japans favour beating Sung-Min Kim in the over 90 kilo category.
Having also dominated the individual categories, winning gold in six out of 14 divisions, Japan will now head to the Rio Olympics next year full of confidence and gold medal-winning expectation.