Cries of 'Revolution' at Lebanon rubbish rally
Comments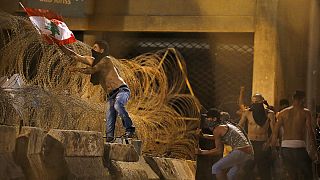 It started as a protest against rubbish piling up. Now they are chanting 'Revolution'.
Back on the streets of Beirut again on Saturday night, thousands of people denounced political paralysis – claiming those in charge of Lebanon are incompetent and corrupt.
"People want the downfall of the regime" cried groups of marching protesters, employing the slogan of mass movements that shook the Arab world in 2011.
The crisis started when Beirut's main refuse tip closed last month. For demonstrators, the government's failure to find a solution reflects the rot inside the system.
Anger over garbage in Lebanon blossoms into demands for reform http://t.co/0xZDwcwHAwpic.twitter.com/B8zznUCOKT

— Wall Street Journal (@WSJ) 28 Août 2015
The mostly peaceful rally flared when a group of youths tried to break through barbed wire barricades in front of government headquarters.
Security forces were quick to react.
But there was no repeat of clashes in last weekend's rally which sparked calls by Amnesty International for authorities to investigate claims that police used excessive force.
Campaigners are calling for the environment minister to resign, for snap parliamentary elections and a resolution to the rubbish crisis. They want better public services in a country with daily electricity cuts and summer water shortages.
But parliament has extended its own term until 2017. Lebanon has been without a president for more than a year and the last parliamentary polls took place in 2009.
"We need a revolution to free ourselves from these politicians," said Hani Abu Hamdan, a 23-year-old unemployed civil engineer.
"We want power, we want water, we don't want rubbish in the streets. We want these politicians to get lost."
What started with the 'You Stink' campaign is now seen as the biggest protest movement in Lebanon's history organised independently of the sectarian parties that dominate politics.