Alexis Tsipras appeals for mandate to complete political reforms in Greece
Comments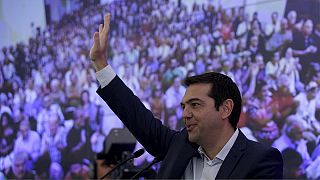 A little over a week after resigning as Prime Minister of Greece, leader of the Syriza Party Alexis Tsipras urged supporters to give him a clear mandate to realise his political vision for the country.
Recent polls show the leftist Syriza Party's lead has slipped to less than two percentage points (1.5-1.8 percent) ahead of the opposition New Democracy Party.
Elections are scheduled for September 20.
Speaking at a Syriza party conference in Athens, Tsipras said a third bailout was necessary to save the country from a disaster that "some of the most conservative circles in Europe were planning."
He stressed that, although short, his tenure had given him the experience needed to move forward and complete reforms.
"Today, I am more experienced, more mature, more knowledgeable and armed with a four-year plan," said Tsipras. "It's a plan steeped in reality and real needs. We are committed to battling for the reforms that the country needs."
Tsipras also took a swipe at a group of former Syriza members who recently broke away to form the far-left Popular Unity Party.
He suggested they had been holding the party back and stressed the need to be positive and proactive.
Euronews correspondent Efi Koutsokosta reported from Athens:
"Alexis Tsipras used harsh words against the far-left MPs who left the party because he agreed on a third bailout programme. He stressed they overthrew the government.
"Although his party is in the lead, according to the polls, there is no sign of an absolute majority. And he's denied he's going to form a coalition with any other party except for his previous ally, the Independent Greeks."