Stocks end the week relatively stable after roller-coaster ride
Comments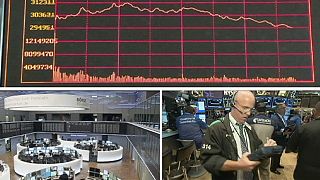 It's been a truly roller-coaster week on the world's stock markets.
The panic selling that took hold in China and elsewhere earlier in the week eventually turned around and there has been a return to some kind of stability.
London closed up 0.9 percent on Friday, Frankfurt edged down by 0.17 while Paris was marginally up by 0.06 percent.
All the turmoil this week stemmed from fears over the Chinese economy, where investors offloaded billions in an attempt to cut their losses.
"They're back in the stock market in Shanghai buying up stocks", said Mike Ingram at BGC Partners. "But there are some fundamental problems there and I would be very surprised if we got to the end of the year without it raising its head again."
China's market is down 43 per cent from a high reached earlier this year, although many analysts thought it had been overheated in the first place.
"The investors who lost a lot of money this time around, they need a lot of psychological help", said GEO Securities CEO, Francis Lun. "They need someone to soothe them, to soothe them over their losses. You have to give them a little hope..even in the darkest of hours there is a light at the end of the tunnel."
Volatility remains high, and what recovery there has been is not enough to say the markets are stable as such.
If China does face more instability, its unlikely Europe and Wall Street will remain unaffected.
China's economic well-being is of interest to the world.
This year markets in the eurozone are down 18 per cent, in the US it's 13 per cent and Australian shares are down 16 per cent.