Berlin processing asylum seekers with difficulty
Comments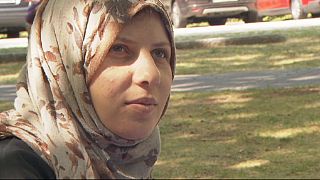 Central Berlin has been transformed by a crush of asylum seekers since the start of August, in a heatwave. Berlin expects 45,000 asylum arrivals by the end of this year, according to local mayor Christian Hanke.
We see suffering feet, blisters, fungus and infections right down to the bone, filled with puss.
They gather at the LAGeSo regional social health administration headquarters, about 100 metres from Chancellor Angela Merkel's office.
Most of them do not speak German or English. Lodged somewhere temporarily, they come day after day to see about their case.
NGOs such as Moabit hilft and the charity Caritas are present, with volunteers and donations from the public also helping.
A woman who has converted to Islam told us: "I am in the children's corner where I can help best, because I work at a nursery school. We go around and tell parents this is here. Mothers leave their kids or some parents stay with their children."
Volunteer doctor Dinah Laubisch, on her holidays, said she comes here every day, and that other colleagues come after work or have taken days off to help.
Laubisch said: "We treat everything; 97 percent are suffering the effect of migration. We see suffering feet, blisters, fungus and infections right down to the bone, filled with puss. We see the effects of cold a lot, very sore throats, children with high fever. We see children, but also adults with worms. These are the most common things."
Most NGOs want the local authorities to do more for the refugees. Many people help because they feel the condition they are in is shameful. There are refugees of many nationalities — from Afghanistan, Pakistan, Iraq, Iran. It is not sure that all of them will be qualified as asylum seekers.
One of the rare Syrian asylum seekers who speaks English translates for us to talk to a family from Deraa in Syria who are waiting for their papers.
The father said: "We arrived with traffickers. We suffered a lot. It look us a month and a day to get here. We do not have our papers yet. We have been here for two or three days, and maybe we will get them tomorrow. The regime's explosions killed all our family."
His wife said: "Of our family, only our small part of it here survived."
Many families are sleeping in Berlin's parks. Volunteer helpers told us that if they took them in it might be considered abduction, official and non-official coordination is so patchy.
The refugees are confused by the disorder they find, that even Berlin can be overwhelmed.