And also...Star Wars 'religion' warning, Edward Snowden as you have never seen him before and deaf and blind drivers
Comments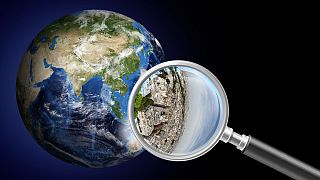 Every Friday, journalists from euronews' various language teams choose a selection of stories from Europe and beyond, which may or may not have made the international headlines.
Turkey: Top religious body warns: 'Don't believe in the Jedi'
After condemning ISIL's extremist ideology, Turkey's top religious authority has turned on another belief system – Jediism – the 'religious movement' inspired by the Star Wars films.
In an article in the Directorate of Religious Affairs (Diyanet) monthly magazine, Marmara University Assistant Professor Bilal Yorulmaz writes: "Jediism … is spreading today in Christian societies. Around 70,000 people in Australia and 390,000 people in the UK currently define themselves as Jedis."
Germany: Edward Snowden gets his own species of crayfish
His revelations have rocked world diplomacy and now Edward Snowden is making his mark with Mother Nature.
Three German researchers have just named a new species of crayfish after the former
US spy agency contractor. It is their unique tribute to Snowden, who leaked classified documents revealing the long reach of government surveillance programmes.
They give full details about the Cherax snowden in the journal ZooKeys.
There's a new #crayfish species and it's named after #EdwardSnowdenhttp://t.co/M68SCan80Epic.twitter.com/jt7Cik4ZHR

— The Ocean Foundation (@oceanfdn) August 27, 2015
Iran: World Football Stars vs Iranian Stars for charity
It is a fixture no Iranian football fan wants to miss!
Global greats of the beautiful game such as Luis Figo and Roberto Carlos have travelled to Tehran to show off their ball skills as part of a World Football Stars Team. Soccer supporters turned out to give them a warm welcome at Mehrabad Airport
The team of world giants was taking on Iranian stars in a charity match at the Azadi Stadium, with the proceeds going to Multiple Sclerosis sufferers.
ستارگان سابق فوتبال جهان در تهران pic.twitter.com/kbtPJMOlFu

— mehdi mahmoudi (@mehdimahmudi) agosto 28, 2015
France: Surprise surprise – there is a Boa constrictor in the Living Room!
Never mind spiders… How would you like to wake up in the middle of the night to find a 1.50 metre long Boa constrictor lurking in your lounge? That is exactly what happened to Muriel Dumont and her young granddaughter who took refuge in the toilet in terror!
Fire crews were called out to remove the slippery customer who had slithered his way into the apartment in the western town of La Rochelle through an open French window.
La Rochelle : elle trouve un boa constrictor dans son salon http://t.co/QYitEDO0D9pic.twitter.com/afhTLA9Lbl

— SO_LaRochelle (@SO_LaRochelle) 25 Août 2015
Poland: Driving forward to combat disability stereotypes
An association for deaf and blind people has organised a car race in Lodz to raise awareness of what disabled people are capable of.
Competitors, some of whom are totally blind and deaf, were accompanied by a co-driver
as they completed two timed laps around a circuit on the airport tarmac.
The winner was Kamila Dobrzynska, 30, who is blind in one eye and partially deaf.
SOURCES