European stocks dip again on China worries
Comments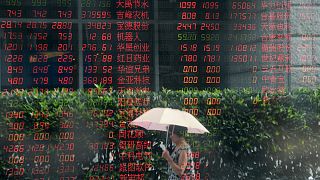 European stocks fell again on Wednesday, amid worries of what looks like a Chinese market in free fall.
In Frankfurt, the Dax lost 1.6 percent and in London the Footsie dropped 2 percent.
European markets had bounced back yesterday after the Chinese central bank cut interest rates in a bid to stabilise its economy, but investors remain worried by signs of a Chinese slowdown and by pressures on prices following Beijing's currency devaluation earlier this month.
In Shanghai, stocks dipped and rose erratically and ultimately ended down for the fifth straight session.
The Shanghai Composite index, which closed down 1.3 percent, has lost more than 20 percent over the past week.
A spark of light in the gloom, Japan's Nikkei bounced back and closed up 3.2 percent.
Investors went bargain hunting after six straight sessions of decline, but analysts say that given the jitters on global markets this week, any rebound is likely to be a fragile one.