Tension rife at Colombia-Venezuela border
Comments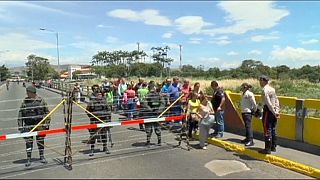 Tension is high at the border between Colombia and Venezuela, which remains partly and indefinitely closed.
Venezuela declared a two-month state of emergency near a major crossing last week, after a shootout between smugglers and soldiers.
President Nicolas Maduro has accused Colombian paramilitaries, smugglers and right-wing foes of causing shortages in his country, in an attempt to sabotage his leftist government.
"We want a new border," Maduro told a news conference. "The border is rotten. We are victims of capitalism, of the Colombian right-wing paramilitary model of capitalism."
The porous 2,219-kilometre (1,379-mile) border shared by the two countries is frequently crossed by smugglers moving price-fixed goods from Venezuela to Colombia for profit, as well as illegal armed groups.
Venezuela suffers shortages of basic goods, soaring inflation and the world's second highest murder rate, according to UN data.
But some five million Colombians are believed to live in Venezuela, and the border closure has sparked a major diplomatic row.
Colombia's Foreign Minister Maria Angela Holguin is due to meet her Venezuelan counterpart on Wednesday.
"We are convinced that closing the border won't help the two countries fight smuggling," she told reporters.
"What it is doing, as you have seen, is creating a difficult situation for the residents who live on either side."
Colombia says more than 700 of its citizens have been deported from Venezuela since last week. In some cases, children have apparently been separated from their parents.