European markets bounce back despite 'panic' selling in China
Comments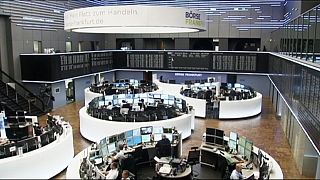 European shares bounced back Tuesday lunchtime despite China's main Shanghai Composite Index falling a further 7.6 percent by close of trading.
In London the FTSE was up almost four percent by midday,while the DAX in Frankfurt rose by 4.61 percent.
Athens put on 7.68 percent. after falling 11 percent on Monday.
Middle Eastern markets also recovered with Saudi Arabia leading the way, putting on 5.33 percent.
In China though the rout continued.
"The mood in China will get a bit better when it's accepted that there will be no more double-digit growth", said Robert Halver, Head of Market Research at Baader Bank.
"But they are still growing, they are still a big player on the world stage. Then the markets will improve. In Europe there is a need to catch up as well. For example in France and Spain few people bought new cars for the past two or three years. So as long as the world economy as a whole is stabilising there is no reason to worry."
The continued sell off in China prompted the government to cut its main interest rate by a quarter percent to 4.6 percent on Tuesday.
It is the the fifth rate cut since November.
Some analysts described the actions of traders and individuals in China as panic selling.
Over 700 companies fell by more than the 10 percent daily limit in Shanghai, including PetroChina, the nation's biggest company by value.
Tuesday's drop was the seventh decline of more than six percent in the past three months.