Iran-US 'Great Satan vs Ayatollahs' mentality lingers
Comments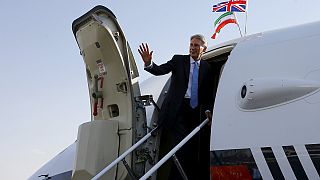 The reopening of Britain's embassy in Tehran on Sunday, after a four-year pause, boosts speculation that Iranian-US relations formally suspended for 36 years could soon follow suit — but with plenty of wrinkles still to be ironed out.
America, the Great Satan, is still hostile toward us, the enemy of Islam.
British Foreign Secretary Philip Hammond said sanctions against Iran might start lifting as early as spring next year.
Although some view that as enriching the diplomatic atmosphere between the Islamic Republic and Washington, analysts are not all holding their breath in Tehran.
University of Tehran US expert Foad Izadi said: "They should realize that Iran is an independent country, and people elect their leaders and their leaders will decide Iran's foreign policy. And these policies are not going to be in line with the United States all the time."
Iranian President Hassan Rouhani also attended the unveiling at the weekend of a new weapon, the 500-km-range surface-to-surface missile Fateh-313, or 'Conqueror'. The move appears to chafe against UN Security Council Resolution 2231, approved just a few weeks ago after the breakthrough agreement on Tehran's nuclear aims, which called on Iran to steer clear of ballistic missiles capable of carrying nuclear warheads.
But it is not only Tehran's conservatives keeping relations with Washington on ice. Plenty in the US are equally cool about this.
Visiting Israel last week, expressing a widely shared view, Republican presidential contender Mike Huckabee condemned the Iranian nuclear deal.
"I would simply, from the very beginning of my presidency, make it very clear that this deal is an unacceptable deal for a peaceful future, not just for the United States or Israel but for really all the world."
Anti-American feeling in Iran remains strong. The emergence of a common enemy – the jihadist Islamic State movement – has drawn the US and Iran into military cooperation in places such as Iraq, but a senior imam in Tehran on Friday warned Iranians not to be fooled.
Mohammad Ali Movahedi Kermani, Tehran's Friday Prayer leader, said: "It would be naive to imagine that the Great Satan has changed. America is the Great Satan, still hostile toward us: America is the enemy of Islam."
Much of mainstream modern Iran, however, is more than ever determined to open up to the West, driven by commercial as well as geopolitical interests. Many obstacles lie ahead, both in Tehran and Washington.
Congress is due to vote on whether to endorse the Iranian nuclear deal by the middle of next month.