European shares tumble as China panics investors
Comments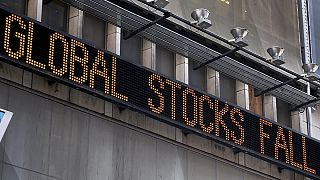 European stocks have fallen sharply off the back of plunging equities overnight in China
continuing to trouble investors.
All major markets were significantly down on Monday with Athens suffering the largest drop at just over 11 percent by mid-afternoon.
By the same time London had dropped 5.6 percent and by over 7 percent. The Frankfurt market fell just over 6 percent taking it into new territory.
"The 10,000 mark is psychologically important", said Robert Halver, the Head of Capital Market Analysis at Baader Bank. "The index is no longer five digit, it's four digit, and now we have a entered panic mode. Investors are losing their cool and everyone, even those who showed no interest in stocks over the summer, is waking up saying 'what's going in China?'"
The negative effect of events in the US led to a strengthening of the euro to one dollar sixteen for the first time since February as traders decided the Federal Reserve is now unlikely to raise interest rates next month. The euro also rose against the pound.