Day two of North and South Korea crisis talks to ease tensions
Comments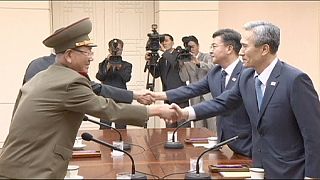 North and South Korea are holding a second day of talks in what is being seen as a positive sign in efforts to ease tensions that have brought the peninsula to the brink of armed conflict.
People say it might take a long time but I hope this situation ends soon and safely
Top aides to the countries' leaders began meeting on Saturday
at the Panmunjom truce village inside the Demilitarised Zone or DMZ.
The rivals were under pressure after the North set an ultimatum for the South to halt anti-Pyongyang propaganda broadcasts or face military action. That deadline passed without any reported incident.
But both countries remain on high alert.
Current tensions flared early this month when two South Korean soldiers were wounded by landmines along the border. The North denies laying the mines.
But days later, Seoul began its propaganda broadcasts in three-hour bursts from 11 banks of loudspeakers, including news reports and pop music from the South, resuming a tactic both sides halted in 2004.
An exchange of artillery fire followed.
North and South Korean armies gather at border http://t.co/f3vTc2T17spic.twitter.com/9iuDFFpEvR

— Daily Mail Online (@MailOnline) 22 Août 2015
South Koreans like 22-year-old Kim Yu-rim want things to settle down.
"I know its not easy but I hope the talks end well so that our citizens can stay safe…People say it might take a long time but I hope this situation ends soon and safely," she said.
State-run television in Pyongyang however is keen to show North Korea's citizens readying for a fight.
It has released images said to show people signing up to join or rejoin the army to take on the South and its closest security ally Washington.
"As we are facing the Great War for unification, we, the young generations, are waiting to wipe out the US and South Korean gangsters from this peninsula," said young North Korean Kim Un-kyong, sporting a military uniform.
Kim Jong-un's North Korea has been hit with UN and US sanctions because of repeated nuclear and missile tests, moves that Pyongyang sees as an attack on its sovereign right to defend itself.