Migrants push through police lines to cross FYR Macedonia border
Comments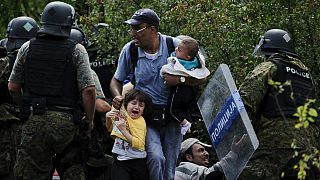 Security forces in the former Yugoslav Republic of Macedonia failed to prevent hundreds, possibly thousands of migrants from
forcing their way across the border from Greece on Saturday.
In this Europe, animals are sleeping in beds and we sleep in the rain
Families desperate to stay together – many of them Syrian refugees fleeing the civil war – took their chances amid the chaos of truncheons being wielded and stun grenades thrown.
Under pressure from the UN refugee agency, after a crackdown at the border on Friday, the government in Skopje said it would let hundreds through in a controlled way.
But with thousands stranded at the frontier, chaos returned.
Tired, angry and wet, one part of the crowd pushed through police lines, while others ran through open fields several kilometres from the bulk of police.
Thousands massed a Macedonia border storm police blockade http://t.co/JEo9wiL4QCpic.twitter.com/IyzeGJ8Bxl

— Huffington Post (@HuffingtonPost) 22 Août 2015
"In this Europe, animals are sleeping in beds and we sleep in the rain," said 23-year-old Syrian woman Fatima Hamido on entering Macedonia.
"I was freezing for four days in the rain, with nothing to eat."
For almost all these people, the former Yugoslav Republic is a transit point on a much longer journey north.
Despite Hungary building a fence at its border to try to stem the flow, that is where they are heading – as a gateway to Germany, Sweden and other countries through Europe's visa-free Schengen zone.