[In pictures] Paris migrants take over disused school
Comments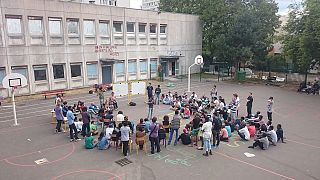 At the end of July 2015 hundreds of migrants moved into an abandoned school in northern Paris. The graffiti-covered premises, Jean-Quarré, had not been used in four years.
After two weeks of occupation Deputy Mayor of Paris, Bruno Julliard, declared: "We are convinced that we must make the choice of responsibility and generosity. The city of Paris has to show solidarity, so the migrants can stay in the school for the moment."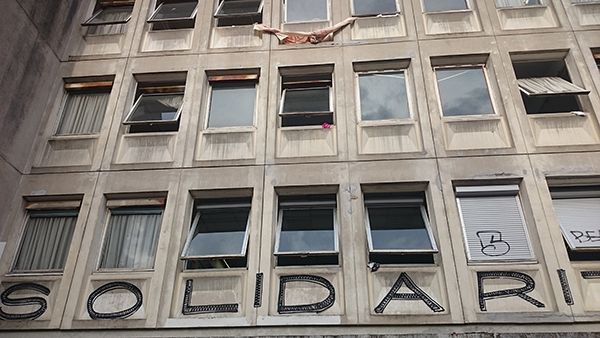 So the 250 people, who mostly come from Africa and Afghanistan, were spared eviction.
When I first arrived at the school, the occupants had just received the good news that the mayor of Paris had given permission for the refugees to use the building. Despite some confusion, most of them were happy about the announcement, knowing they would at least have a roof to sleep under and group meals.
"We cannot stay on the street in Paris in the autumn. It rains and it gets cold," one Afghan asylum seeker told me. He knows because he has spent the last few years of his life on the streets of Paris.
Inside the occupied school women and families live on the ground floor. Men are separated, always by nationality. They live in the former classrooms, sleeping on the floor.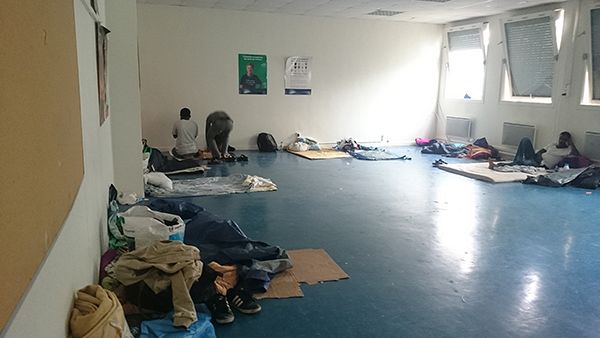 The main problem at the school is the growing number of migrants who turn up each day. After the mayor's announcement the number of new arrivals to the school doubled. It's a source of anxiety among the people I met there, one told me: "there's not many places to sleep at night."
The situation at Jean-Quarré is unlikely to improve any time soon as the arrival of new migrants does not seem to be slowing. Bruno Julliard recently warned that the situation could deteriorate if the local authorities don't receive a list of details about the occupants, distinguishing those without papers from those applying for asylum. The Comité de soutien des Migrants de la Chapelle, an association supporting the migrants, has withheld the information citing security reasons.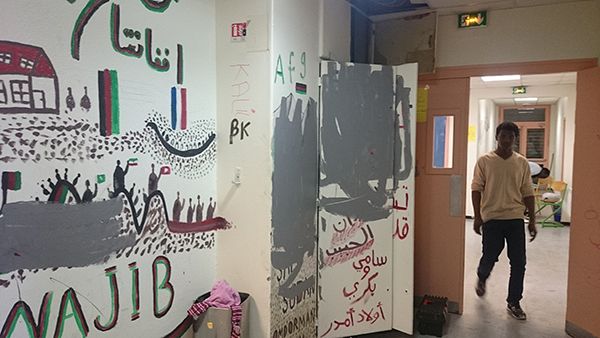 At Jean-Quarré you can't help but notice the graffiti and drawings on the school corridor walls. I spoke to the man behind much of it, he told me that other people had painted over his work: "to erase his memory".
During my visit I attended a meeting during which activists tried to convince the migrants to participate in a demonstration to defend their right to stay in France, their right to housing and their right to better living conditions. The crowd was extremely wary. Most of the migrants came from authoritarian countries and they feared retaliation from the government. It took some time, but in the end most of them told me that they were willing to participate in the demonstration.